Yelp:
http://www.yelp.com/biz/panini-cafe-irvine
My Overall Ratings:

4.5 /5


Review By:

Sunflower
Hello lOve,
Happy Thursday to everyone--especially the hungry ones. This is what i grab for lunch todayy! Healthy and tasty:)
(5/5 ratings)
Their MUST TRY's Chicken Kabob--comes with 1 kabob stick, brown or white rice, and soup or salad. (Above) I got the white rice. The rice is perfect, not chewy at all. The rice just melt with every bite. The chicken kabob and the grilled veggies are heaven! I don't know how this place get so pro at marinating their chicken and veggies soo perfectly. Lastly, the Mediterranean Salad is what to die for. The sauce and the blue cheese complement each other so well. HANDS DOWN!
Close up picture of the Chicken Kabob!

TIPS:
Squeeze some lemons on the chicken kabob :)
(4.5/5 ratings)
#7, Turkey Panini is also so tasty! I love how they grilled the bread! and O.M.G the bacon and avocado always get their jobs done when married to each other.
#7 also comes with a side order, I picked the tomatoes, chicken soup--its was alright.
These breads were mediocre--not too impressive with them.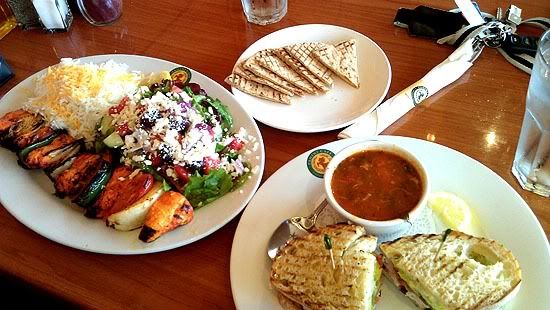 Happy Lunching Everyone,