My Overall Ratings

: 5/5 (happy Hours 4:30-6:30pm)


Review By

: Sunflower
Ruth Chris Steak House is known, nationwide and maybe worldwide, for their irresistible steaks. However, do we poor commoners have to stop ourselves from eating good food?
DISAGREED!
Ruth Chris Steak House's Happy Hours Menu is our answer!!! Almost everything on the menu is 7 dollars, if you order a glass of wine or alcohol.
(5/5 ratings)
The bread & butter are amazingly tasty with a glass of Red Wine (Merlot)!
Ranking from my favorite to least favorite:
(5/5 ratings)
The Spicy Lobster is the BOMB! Too bad, it serves in a small portion. I devoured this dish in less than 10 seconds. The skin was crispy and tender. The sour + pepper gave it a finished kick. I'm so pleased and honored to have eaten this dish :]
HINT
: squeeze the lemons to enhance the taste.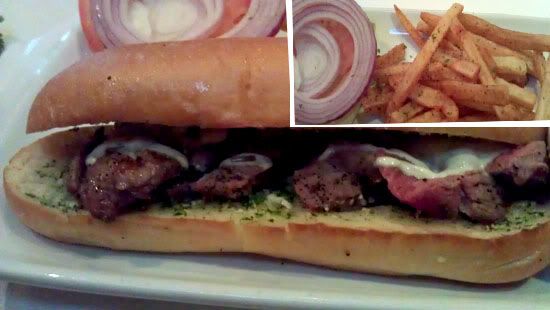 (5/5 ratings)
The Steak Sandwich with Fries was... OMG! I can't really describe the taste, but it was also heaven! As you know, they are known for their steaks, so the (rare) steak was seasoned at its best! The fries, lettuce, onions, and tomatoes on the side complemented the sandwich.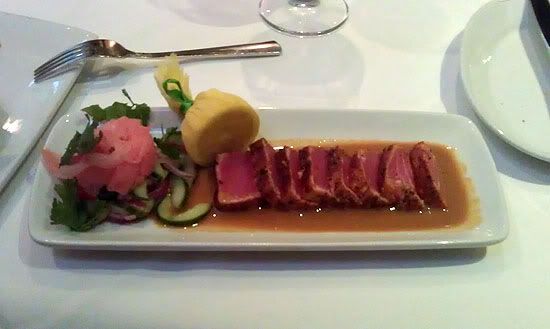 (4/5 ratings)
The Seared Ahi Tuna didn't taste soo much like TUNA--that's good! I'm not too fond with tuna and that fishy taste. This dish tasted more like a rare steak dish :] I give the Tuna a 3.5 stars, but applaud the side salad with a 5 plus.
-Enjoy The RICH food, without breaking your bank ;]